WRU CLUB DEVELOPMENT OFFICER UPDATE
Rugby Balls, Mouthguards and vouchers:  will be organised next week. We have been waiting for the final few clubs to get their teams in, we have those now which is great. WRU will contact you all in due course when these are ready for pickup.
13th grade and Waikato Wide Year 8: Both of these divisions have byes, once the 13th grade is up next week, we can communicate with both divisions to fill in the byes with some friendly games, if wanted.
WRU NZR Front Row 12th grade Pilot Trial in the Waikato: Over the past 6 Months I have been working with the NZR on expanding the Front row to Scrum Factory. These Scrum Factory resources are now on the coaching toolbox. With NZR I will be facilitating 4 tutors in this programme to build up our Front Row/Scrum factory resources. These 4 local coaches are very keen to get this underway. There have been a few timing issues and we have finally got some dates. I will be contacting the clubs to confirm venues. We appreciate these might not suit everyone, don't despair we are looking at some more sessions after the holidays, also with 13th grade.
Dates for 12th grade Scrum Factory 2020 6.00-7.00pm
>Monday 29 June Hamilton 12th grade front rowers WCJR 12th grade front rowers, coaches welcome. Venue: Hamilton Marist.
>Tuesday 30 June Te Awamutu region 12th  and 13th grade front rowers ( Waipa 12th 13th grade front rowers, coaches welcome)
>Wed 1st July Cambridge Waikato Wide 12th grade front rowers ( Waikato 12th grade front rowers,  coaches welcome).
>Possible 2-3 front row/scrum  sessions TBC 20-31 July TBC
(Note: Can clubs get back to me with teams numbers participating, by Monday 29th midday, so we can get an idea of numbers please).
Paul Martin, Club Development Officer
Waikato Rugby Union
Small Blacks Courses 2020
Small Black Webinars x 3 each Wednesday 6:00pm – 7:30pm. Each webinar is targeted at specific age group.
Facilitators – Jordan Farrington and Paul Martin
1 x Rippa Under 7's 24th June 6:00pm – 7:30pm
1 x Under 8 to Under 11 1st July 6:00pm – 7:30pm
1 x Under 12 to Under 13 8th July 6:00pm – 7:30pm
Small Black Face to Face x 4 each Saturday 9am – 11am (TA 10am start). All Ages
Facilitators – Ross Filipo, Paul Martin, Jordan Farrington, Hamilton Burr tbc
20th June Venue  Te Awamutu Sports Waipa Region
27th June  Venue Morrinsville Sports Piako Region TBC
4th July  Venue Cambridge Junior Rugby Club Cambridge and Waipa Region
11th July  Venue Suburbs Rugby Club Hamilton Region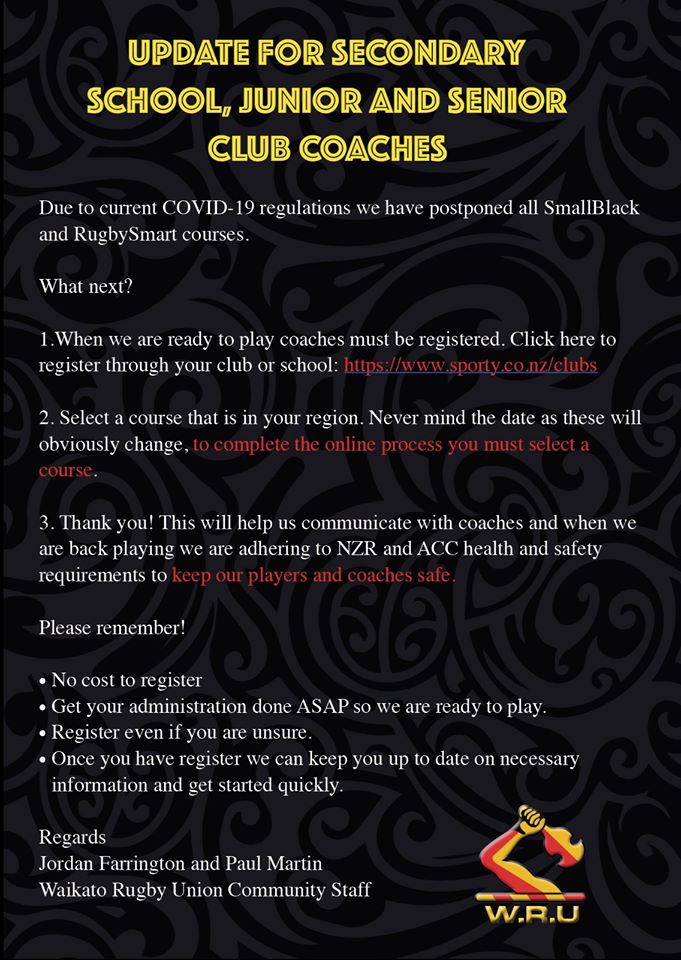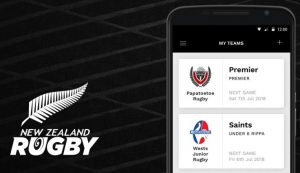 * The MyRugby App is your official New Zealand Rugby Community App.
Follow the local teams you care about to find out about upcoming fixture information and previous score. And if you're a team manager spend less time filling out and sending in paper teamsheets so you can spend more time on winning the game! * (PLEASE NOTE: Info will become available once draws and teams are established and uploaded). 
As MyRugby has been developed by New Zealand Rugby all player information and fixture information comes directly from, and is recorded to, the official National Rugby Database.
* How much does the MyRugby App cost? The MyRugby App is 100% FREE to download and use.
* Where can I get the MyRugby App? The App is available for both Apple and Android devices, use the appropriate links below for your device, or search directly for MyRugby wherever you normally get app for your phone.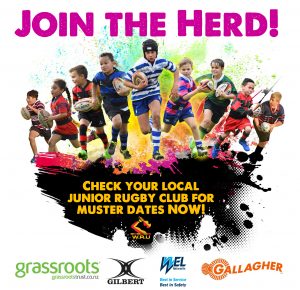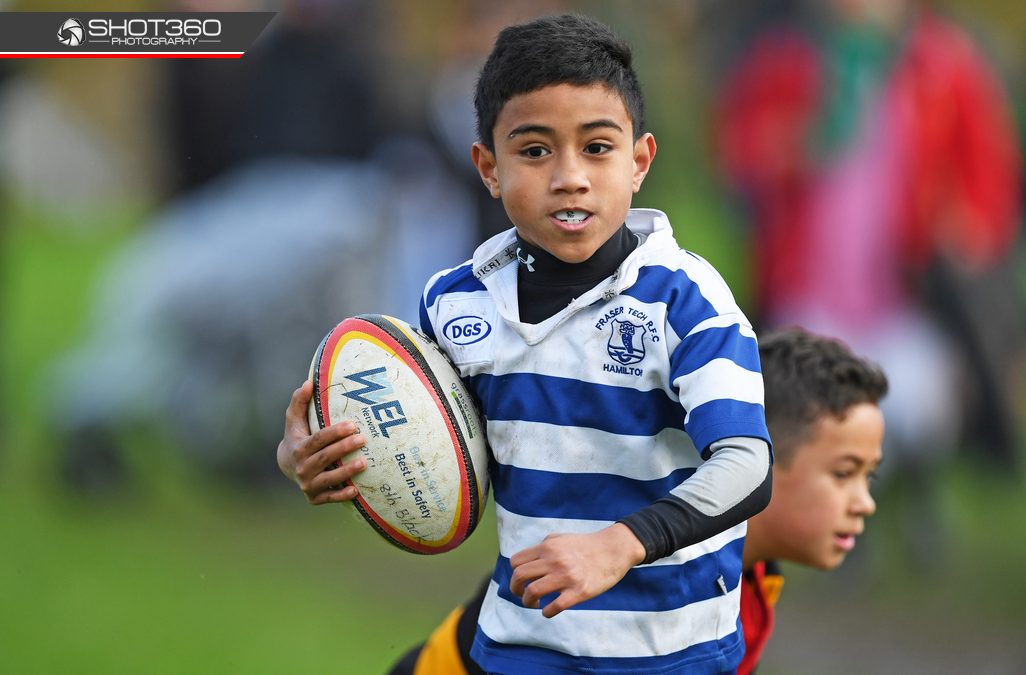 Overall Placings for the Alex Henry Memorial Shield  Link to PDF click here... 2018 10 A Side Results 1st - Fraser Tech 2nd - Taupiri 3rd - Suburbs For more photos click...
read more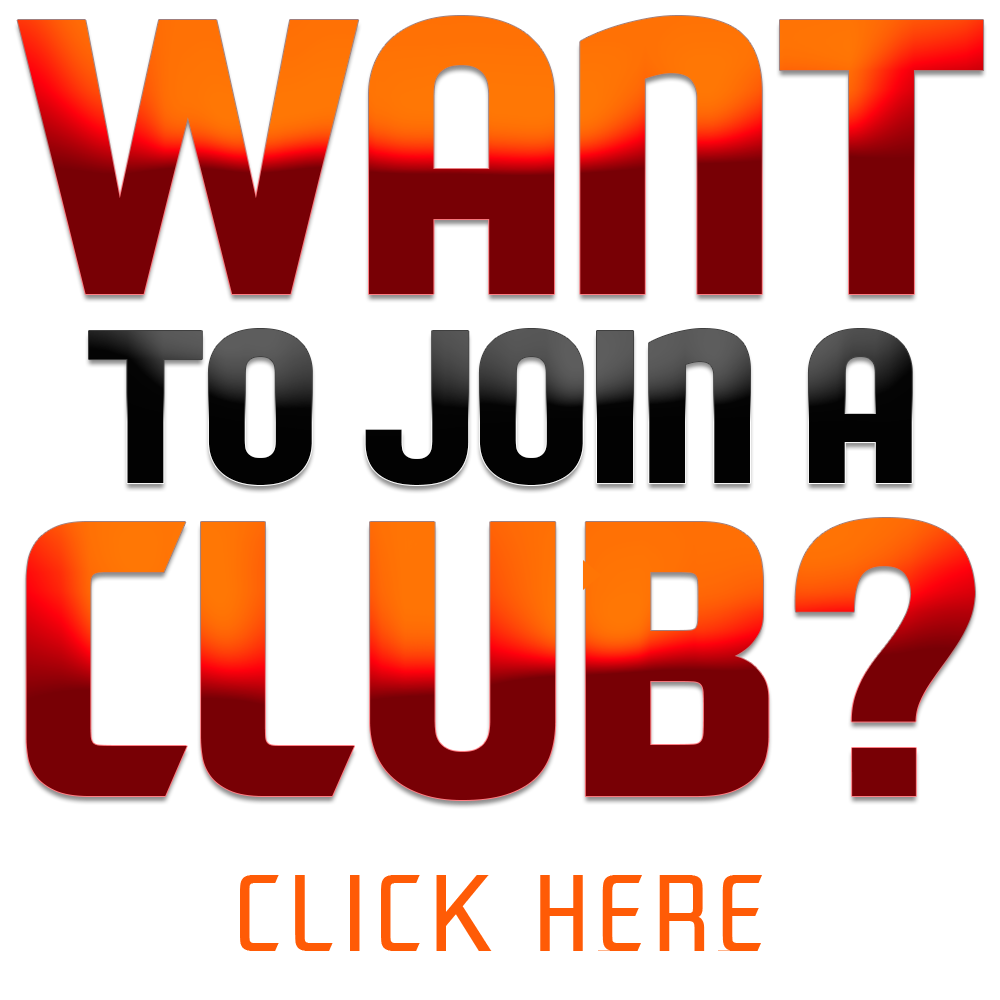 IMPORTANT DATES 2020
8th July : Small Blacks Online Webinar: U12-U13 6–7:30pm- register here: http://www.mooloo.co.nz/Register-Here-for-2020-1
11th July:
12th July : WCJRB Meeting, Frankton Rugby Club, 5:30pm
18th July:
– No rugby due to school holidays.
-TBC Tackle clinic for Under 8s
25th July: All Junior Rugby Games start
26th September: All Junior Rugby Games end